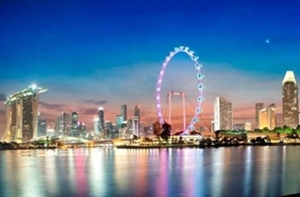 Munch a chicken casserole at one of those hawker centres. Challenge the natives in a football match at the East Coast Park. Hear monkeys clattering at the natural reserve of Bukit Timah. Try out a tiger beer. Picturesque islands, erotic jungles, succulent cuisines, beautiful beaches and a heterogeneous culture, Singapore can just be the perfect choice if you are planning to relocate to a different country.
Tourists regard Singapore as an utopia and the place offers a plethora of reasons to say why. Relocating to Singapore can be fun because the country has something to offer to everyone. It's not just about eating and shopping, there is a lot more to Singapore. Read further to find out a few things that you can do during your stay in the island country:
Smith Street Hawker Stalls: Dotted all along the street, below huge umbrellas are numerous vendors and hawkers selling delectable delicacies. Fall in love over and over with Satay or treat your taste buds with Nasi Lemak. Gourmets are going to love the fried Hokkien prawn noodle, one of the most popular and scrumptious hawker dishes of Singapore.
Baba House: Book in advance for a visit to the Baba House. The tour will not take more than one-hour but will provide you a detailed insight into the life of a local family.
Sentosa Island: Don't miss out Sentosa island, Singapore's unrivalled holiday resort. Just 500 meters from south coast Singapore is the unparalleled Sentosa island, the perfect spot for leisure and recreation.
River Cruises: Enjoy the boat ride from Merlion to Robertson Quay. Don't worry there is a lot more that comes in your way between the two stops.
Botanic Garden: Get in tune with nature at the Singapore Botanic Garden. The swan lake, symphony orchestra and mesmerizing gardens will take you to the Victorian era.
East Cost Park: Swim or just sit and relax at the East Cost Park. You can find a lot of places to eat near this15kms long beach. Grab some chilly crab with tiger beer when strolling in the East Cost Park.
Moving to a different country can be fascinating but vexing at the same time. You can avail the services of a reputed moving company to make your relocating experience convenient and stress free. These days a number of movers companies are offering best Singapore moving services  at affordable rates. Moving to Singapore is no longer daunting and troublesome with the best Singapore moving services provided by these companies.