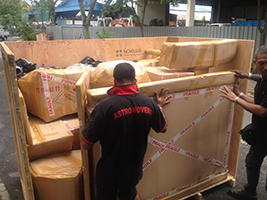 Astro worldwide movers offer its services on competitive rates as one of the best shipping companies Singapore. The prices they are offer are competitive for all corporate levels and for individuals as well. Astro beliefs in providing quality service in competitive rates. No matter that you want to hire their services for your business or for individual need, in both the ways you will best service in economical rates. We have designed our weekly schedule to different destinations from Singapore. Our basic priority is to give your goods and belongings a special care and attention while packing it or loading it and then transferred it to the earliest shippin lines which permits shortest and earliest transit time. We choose safe and secure routes to deliver your products safely at desired destination.
When you are shipping to Singapore, all belongings are kept nicely well kept and waterproofed within all our shipping lines steel well equipped containers. Our customers can easily contact us on 6791 2488 or contact us at sales@astromovers.net and you will be properly guided about the next available vessel along with necessary details of shipment date and time. Through this process you can easily get the desired information to hire our services. We are the reputed best quality moving and shipping company. Astro guarantees to deliver your items at your doorstep safely and at the given time. We provide our services to over 900 destinations and have a strong management system so that there will be no chances for any hassle.
Opt for a reliable and efficient shipping company like Astro Worldwide Movers, if you want the best services. Our network unlike other companies is well-connected and well-organised just as you like for your requirements. For those moving internationally, engaging shipping companies which have global presence is vital.