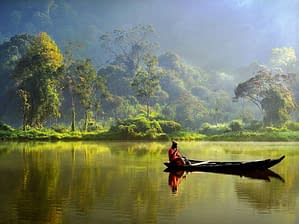 Are you planning to move in the near future? Do you need international moving services to Indonesia? Do you want to be organized during your move to ensure everything makes it to the new home safely? There are many ways you can stay organized while moving, although it can be a bit complicated. If you're moving and want to learn what you can do to stay organized before you move, then you've come to the right place.
When you are moving internationally anywhere from the US to Indonesia, the cost of moving will depend on the desired destination and as well the weight and cubic footage of the cargo.
Along with the excitement of living in a new country and the promise of an enriching cultural and professional experience come the mundane tasks of planning your move to Indonesia. Poor planning will result in a more stressful move for your family. Remember the last time your family moved in your home country? Most of us find moving domestically a stressful event; moving to Indonesia or to a new country constitutes an even more challenging transition.
Make a To Do List. Below is a suggested list of tasks to start with, not necessarily in this order:
• Coordinate with your sponsoring organization to ensure that passports and visas are in order
• Prepare to rent or sell some of your property or belongings
• Visit your accountant
• Organize your banking and insurance matters
• Gather records that may be needed during your stay in Indonesia
• Notify correspondents of your change of address
• Decide what should be shipped to Indonesia, what should be stored, sold or given away
• Visit your doctor to discuss medical care overseas
• Spend quality time with family and friends before you say good-bye
• Plan a familiarization or "look-see" trip to Indonesia
If you are moving to Indonesia, please feel free to fill up our online form so you can get an absolutely free removal quotation from us. Or you can get in touch with our international relocation company through our online contact form later or by calling us at our 24 hour help line. We look forward to hearing from you so we can show you how our movers can complete your move to Indonesia demands immediately.