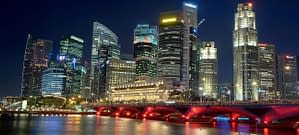 Relocation service or employee relocation includes a range of internal business processes to transfer employees, their families, and/or entire departments of a business to a new location. Like other types of employee benefits, these processes are usually administered by human resources specialists within a corporation and outsourced to different types of service providers. Relocation services are not synonymous with moving/relocation companies as not all of these companies offer "relocation services'".
Relocation Services in Singapore are well used by workers in Banks, insurance companies and consulting companies. As the costs are not cheap, the relocation service includes everything an expat needs in the first couple of days. As most of the relocation companies were only founded in the past 10 years the market is still fragmented and not so transparent. Many relocation companies trust smaller, local players with longstanding experience, local contacts and low overhead costs.
When you want to relocate an entire business unit, the hassles faced are numerous and it is easy to overlook some vital points. Astro Movers provides international relocation services in Singapore to remove the pain and hassle out of relocation. They are there to help by plan your every move and they leave nothing to chance. You can safely concentrate on your business while the relocation is taking place.
Astro Movers can help in all aspects of your move and would like to be your local communications provider. For over 25 years, we have assisted companies like yours in their every communications need. Our professional staff will make any job a worry-free experience for you and your employees, saving the headache and stress of trying to do it yourselves.