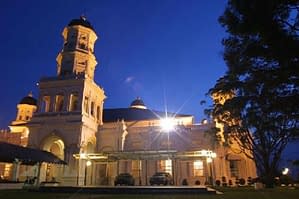 Johor Bahru is Malaysia's nearest city to Singapore. Every day, thousands of commuters travel from Singapore to Malaysia via the Causeway Link and reach the Johor Bahru town.
If you look at the map, Singapore stays at a very strategic location in between Asian countries. It is now one of the world's top financial hubs, oil refinery hubs, offshore and marine centers, as well as logistic centers. It takes many years to build up its repo as the world class transportation hub too.
With limited Singapore land supply and high density of population now in Singapore, Singapore has no choice but to transform itself to a lower labor-incentive nation, mainly focus on finance & service industry such as tourism, retailers, and so on.
The city in itself has a population of 1,334,188 as of 2010, while the metropolitan Johor Bahru, also known as Islander Malaysia, has a population of 1,730,000.
Tourism is one of the most important factors for Johor Bahru's economic growth. Johor Bahru is easily reached from Singapore, and receives 49.9 percent of the country's annual 22.5 million foreign tourists via its bridges and road links to Singapore
If you are newly arrived in Singapore as an expatriate, or even on holiday, the significantly lower prices in Johor Bahru may well surprise you. Many locals head over the causeway at the weekend to pick up cheaper groceries such as cooking oil, sugar etc. However, although petrol is a lot cheaper in Malaysia, any car attempting to leave Singapore with a petrol tank which is less than 3/4 full runs the risk of being fined a significant amount – this is to protect the Government's revenue.