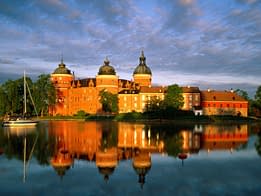 If you are moving to Sweden, why not move with Astro Worldwide Movers? Last year, we relocated expatriates and their families from Singapore to Sweden , handling everything from removals to home search and storage. Whether you're moving to Stockholm, Gothenburg, Malmo or any other city, we'll ensure every aspect of your move to Swedenis as easy and stress free as possible.
Whether you are relocating for professional reasons, or looking for a slightly different lifestyle, Sweden is an exciting destination. It has one of the world's most highly developed economies, and is a highly innovative country, with strong technological and industrial sectors. Unemployment rates are low, and due to the strong economy and an excellent welfare system, Swedes enjoy a high standard of living.
We are specialized in moving industry primarily on moving household goods on an international level. With our knowledge and experience we offer mobility and relocations services to each and every corner in the world.
People are relocating to other countries for professional or private reasons for short or long terms. Moving overseas is much more complicated and challenging than moving domestically. The items must be packed and wrapped, shipped and finally be delivered. Thanks to Astro Worldwide Movers you don't have to do this alone.
Astro Worldwide Movers guarantees safety and quality all through the moving process. Our priority from start to goal is to ensure you the best service and on-time transportations.
Most relocation projects are very complex. That's why we at Astro Worldwide Movers handle every item with care and every job with pride. We know that your items are important and what they mean to you.
Tips about moving to and Living in Sweden:
As Sweden is part of the EU, EU citizens have the right to live and work in the country. However, you will still need a work permit from the Swedish Migration Board.
If you are planning to move to Sweden permanently, you should also apply for a registration number as soon as possible as it is essential for many things from registering with the doctor to opening a bank account.
The unemployment rate is low and there are a wide range of employment opportunities, though expats often find it hard to get a job in Sweden, especially as there is a relatively large public sector.
Sweden has a strong welfare state, with an excellent universal health care system, a good public education system, and has a very high percentage of tertiary education degree holders.
Living costs in Sweden are slightly higher than in the UK, but if you manage to find employment, your salary will also be higher than in many other EU countries, including the UK.
Moving to Sweden with Astro Worldwide Movers
Your Move to Sweden with Astro Worldwide Movers – Astro Worldwide Movers has been providing an excellent door to door removal service to Sweden for years, and can transport your effects by shared load or by sole use container load. We can transport your items to Sweden in various ways, by sea containers, or by air freight? To ensure the safety of your consignment, we can also provide bar coding and computer tracking.
Additional Removal Services – Astro Worldwide Movers can provide a variety of additional removal services when moving to Sweden. We can arrange international insurance and international storage, and can also take care of your pet transport.
Astro Movers is one of few moving companies who are providing global mobility and relocation service, door to door to all over the world. Astro Movers feel the pleasure to offer individuals and companies our services to countries in Asia, Middle East, Africa and America.
Call our sales consultant at 67912488 or email enquiries to sales@astromovers.net