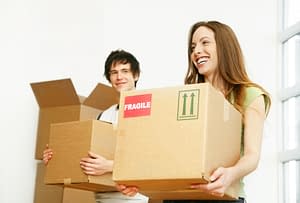 The key to finding a great apartment is location, location, location — but finding a reputable international mover is all about research, research, research! When you are searching for moving services, you need to make sure your movers won't rip you off or break your valuables. Before you sign a contract and book your professional move, do your homework and follow a checklist for hiring reputable international movers that is based on these tips.
Ask for Advice
If you aren't sure how to find a reputable mover, you might be surprised to learn that a "cold" Internet search may not be the best place to start. It's smarter to ask for referrals from friends who have used international moving company.
Be sure to inquire about the cost of the move and the positive and negative aspects of a friend's moving experience.
Make the Call
Once you've chosen three moving companies that seem like safe bets, call them so you can make sure their moving business follows regulations (and likely isn't a moving scam.) You should only work with businesses that have local offices and are willing to send a person to your house to do an estimate.
Next, ask your three moving picks to come to your home for a personal estimate. Make sure they look at all of your items and consider the value as well as the volume. Get each estimate in writing, so you can compare companies and their pricing. The written estimate will also help you make sure the company doesn't sneak in extra charges at the tail end of the job. Finally, make sure you ask for references, insurance coverage info and the company's DOT number so you can do the next phase of research.
Get Back Online
Now that you are armed with first-hand information about the professional movers you interviewed, it's time to check their references. Call the customer names they gave you as referrals and find out first-hand what their moving experience was like. Then use the DOT number to check their record and make sure they are licensed to transport your belongings. Once you cover these bases, you can make an informed decision and choose a professional mover that you feel secure using for your move.
Moving is a lot of work, and it's your responsibility to protect your move and find reputable moving assistance. Your time and effort will pay off when your valuables are packed and delivered safely to your new home.