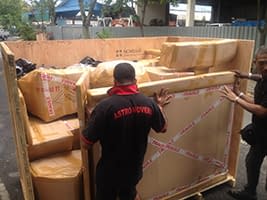 Astro Movers, a relocation company in Singapore, offers you the service of smooth relocation. Helping you to find an easy way of moving from one country to another, this company provides you with some of the most reliable services.
Located in Singapore, Astro Movers curates tailor-made packing and moving solutions.
What do we offer?
When it comes to shipping your valuables, furniture and other kinds of things from one country to another, then you are in the right place. Operating in Singapore for the past 2 decades, Astro Movers helps you with:
A method to transport your valuables and furniture from one country to another via:
Apart from this, when you choose Astro Movers, you do not need to pay for any transportation fees.
Astro Movers offers you a team of professional house / office movers at easy and affordable prices.
Furthermore, Astro Movers, one of the best shipping company in Singapore, provides you with containers of various sizes. Additionally, these containers are dustproof, weatherproof and waterproof.
Astro Movers offers you steel containers, wooden containers or containers as per your requirements.
With the help of Astro Movers, find an easy way of moving from one country to another. Helping you find easy services, reliable help and a safe means of transporting your furniture from one place to another, Astro Movers the best shipping services.
Why Choose us?
With an experience of more than decades, Astro Movers offers you many kinds of services under one roof. Here is why you should choose our services when you move from one country to another:
We offer you an experienced team of movers you efficiently pack your furniture.
With our services, you can be sure that we do not have to harm your valuables and furniture.
Other than this, our prices are comprehensive and fair. We do not charge the same service twice.
Additionally, we offer you an expansive service. With our contacts and effective methods of transporting goods from one country to another, you can rest assured that your furniture will reach the destination safely.
Furthermore, with our service, you do not have to pay for transportation service of any kind. All you pay is the quoted amount for our service, and we manage the rest.
At Astro Movers, we understand that there are many things you need to take care of, which is why we offer you worldwide packing and moving services.
Our Promise
Astro Movers, an international shipping company, offers you the services of moving from one country to another. Making your journey and experience with us seamless, we offer you:
Ethical Services
Honest opinions
Experienced help
Understanding staff
Robust and lucrative help
Fair Prices
With our services, you can find easy ways of moving. Astro Movers helps you move, pack and transport your valuables. Offering to take off some burden off your shoulder, we make it a point to offer you the best of best services. Quality services and with an experienced staff, we offer you only the best.
Call our sales consultant at 67912488 or email enquiries to sales@astromovers.net